04
Understand the Installation Process of a Windshield
By AIS Windshield Experts
Category: Uncategorized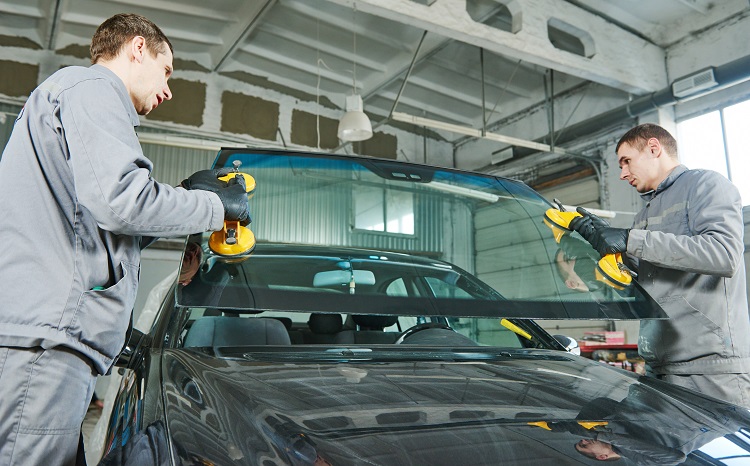 Not many know this, but manufacturers don't place an automotive windshield for aesthetic purposes alone. This component is a part of the SRS system of your vehicle. SRS stands for Supplemental or Safety Restraint System, which includes airbags, seat belts and the windshield.
Not only does your car's windshield keeps you safe from flying out the vehicle in the unfortunate event of an accident, but it also keeps dust, bugs and rain at bay. Therefore, ensuring your windshield stays in perfect health is imperative.
Often car owners drive around with cracked or chipped windscreens. While this may be alright temporarily, it is a dangerous thing to do, especially if the fissure on your windshield is in the line of vision. Not only can a compromised windscreen crack at even nimble instigation, but it can also break into shards that fall on the driver and the passenger.
To avoid such life-threatening possibilities, one must visit their windshield expert first chance they get, if this critical component deals with damage of any kind. A credible automotive windshield expert will guide you, whether they can repair the part or if a replacement is the only feasible option.
Understanding Professional Windshield Installation
If your windshield's nature of damage is such that replacement is the only alternative, you must get it freshly installed from a genuine expert. However, it never hurts to know how they will conduct the windshield installation. You know you have found a trustworthy expert if they follow the steps listed below:
Step 1 – Getting a Team Together
Before beginning the actual windshield installation process, your service provider must get their team ready. Know that windshield replacement is at least a two-person job. So, before you select a windshield expert, make sure to ask them how many people will be working to replace your windshield.
If they say one or seem confused by the question, do not leave your vehicle with them. Any credible windshield installation expert worth their salt will already have a small unit of professionally trained technicians handling a delicate job such as this one.
Step 2 – Arranging all Tools Necessary before Kicking off the Process
This step involves setting up the area and laying out the tools for windshield installation. While setting up their work area, the expert ensures they don't damage your vehicle and have all tools necessary for the job.
After arranging the workbench, they will use protective masking tape to outline your windshield and lay down towels on your dashboard. The right expert will always ensure that in the process of windshield installation, your vehicle's vinyl surfaces must remain damage-free.
Once the technicians are done with all things listed above, they will gently unfasten your wipers, detach side view mirrors and remove the cowl. The cowl is a small part at the base of your windscreen reinforcing it with the rest of the body.
Step 3 – Removing the Old Windshield
Now comes a critical part in the process – pulling out the damaged windshield. Technicians usually take their time with this step and rightly so. They begin by loosening the moulding (chrome or rubber strip) lying between the vehicle and the windscreen. If your car does not have one, they directly proceed to cut the previous urethane adhesive layers with a special knife.
Once the technician removes the adhesive, they start pushing your windscreen out of its frame. This part requires brute force, and usually, two people finish the job. During this brute pushing of the windshield, it often cracks considerably. So, if you are witnessing the entire process right in front of your eyes, don't be alarmed.
Your technicians will store the broken glass from your windscreen for recycling. That way, you don't have to worry about disposing it. Once the old windscreen is shoved out, you will see a hollow space being prepared for new windshield installation.
Step 4 – Prepping the Replacement Windshield 
So, the old windscreen is out, most of the old urethane adhesive is cleared, but some residue is always left. To get rid of it, the technicians use the "full cut" method and strip down the remaining urethane adhesive as close to the frame as possible. They do this to ensure that the new layer of adhesive bonds well with the frame.
But, before applying the new glue coat, the team will prime both the windscreen and the frame of the vehicle. Think of the primer as a high heat and moisture resistant layer of glue applied to both surfaces, in this case.
The reason behind applying a primer to both the windshield and the frame is to ensure zero contamination before sticking and to add a more robust bond – one that resembles OEM or Original Equipment Manufacturer's safety standards.
Step 5 – New Windshield Installation
Before going full force with sticking the new windshield onto your frame, the technician will dry set the part. They will do this to get an accurate marking of how the windscreen should sit on your car's frame. After placing a windshield, the technician must not move it, which is why the dry setting is critical.
Now, with the help of a caulking gun-like tool, the technicians will hold the new windshield and apply some more adhesive, if required. After this, they will gently place the new windscreen onto the frame. The rough marks they had made earlier using the masking tape will act as guides for accurate placement.
Keep in mind that when technicians carry out windshield installation, they wear gloves to avoid contamination the part.
Step 6 – Adding the Finishing Touches
Once the new windshield is in place, the technicians will fasten the fringe parts like the moulding cowl, side view mirrors, and wipers. They will also get rid of any broken shards of glass or urethane residue.
As a rule of thumb, you must operate your wipers and side-view mirrors after windshield installation. However, check the working of these parts only after enough time has passed after installation; otherwise, you run the risk of damaging your new windshield, which is still curing.
Step 7 – Mentoring of Post-Installation Best Practices
After a successful windshield installation, the car care expert will ask you to visit and check the part for yourself. At this point, you must feel free to ask any questions regarding windshield care and how to avoid damages to this component in the future.
Before you make your way to pick up the car, make sure to quiz the expert if indeed enough time has lapsed for you make the trip. Safe drive-away time after windshield installation may differ slightly depending on the climate and the model of your vehicle. Usually, a true-blue expert will only call you once a safe amount of time has passed post-installation.
What is the relevance of assigning a safe drive-away time? Even after the completion of the windshield installation process, the urethane adhesive does not dry thoroughly. It needs some time to harden or cure fully. Driving your vehicle on the road during such a time, where it may go over bumps, potholes or speed breakers, might dislocate your newly-installed windscreen.
Often, your installation expert will be there to coach you on post-care. They may also ask you to fill out the necessary paperwork and describe your part warranty features.
Further, you will likely notice the technician leaving both your front windows open just a crack. Doing this ensures that your vehicle does not pick up a change in pressure when you open or close the door. Remember, slamming your doors with closed windows, while the adhesive is still curing or hardening can dislodge the windscreen.
How to Care for Your Newly Installed Windshield?
Here are a few easy-to-follow tips and tricks that can ensure your automotive windshield installation process remains a success:
After a safe drive-away time has passed, bring your vehicle home and park it in a covered space. Full curing of the adhesive may take almost a day, so, until then keep your car away from water or moisture.
Do not slam shut the doors of your vehicle, while getting in or out. Reduce the number of vibrations reaching your windshield.
Drive your vehicle home and don't use the car for at least a day.
Avoid using wipers.
Do not wash your car or get it hosed-down for a couple of days at least.
Leave the front windows cracked open when the vehicle is parked, if possible.
Over to You
There you go! All set to opt for windshield replacement, should your expert deem it necessary. The process described above may not sound as complicated, but it indeed requires enough skill and finesse to accomplish. Therefore, make sure you choose your windshield service provider after carefully vetting all players around you.
However, if you are looking for an already renowned and trustworthy name for windshield repair or replacement, turn to AIS Windshield Experts – India's largest car care service provider. Our squad of technicians are professionally trained for this job and have years of experience with windshield installation.
Wheel into any one of our 90+ service centres across 50+ cities in India and experience service par excellence for yourself. We also provide our services at your location of convenience. All you have to do is give us a call.
So, if you have a windshield problem, reach out to us today!